We are having a push-up week at the dojo. 100-150 push-ups every day so far. It's not that awfully bad, but my body hurts a bit - in a good way of the trained muscles:)
But who cares!
Today I was working with a Dao - chinese broadsword for the first time in my life! If fact, it was a first ever time when I was holding a Dao :) The sword is rather heavy, but it was FUN! The blade springs, and the sword "sings"in your hand, that's so cool. My friend

murdilka
was playing with a Dao sword too, and so did Sasha on his youth class. I hope we'll do weapons more often, the one-hand sword is very interesting.
~~~~~~~~~~~~~~~
В доджо у нас очередная развлекуха - неделя отжиманий в качестве разминки. 100-150 раз каждый день. Не то, чтоб невозможно тяжело, но пресс и руки понемногу ноют.
Ну и фиг с ним.
Зато сегодня я в первый раз занималась с мечом Дао! На самом деле, я вообще впервые в жизни такой меч в руках держала:) Меч довольно тяжёлый, но это было исключительно прикольно. Дао пружинит, и "поёт" в руках, здОрово так.

murdilka
тоже с мечом занималась, и Сашка на своём юношеском классе тоже. Надеюсь, мы будем с оружием почаще играться, потому как весело.
Dao sword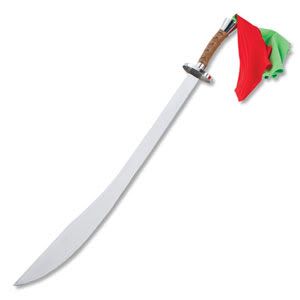 If you don't know yet,
Tom Waits
released a new (first in 7 years) album a couple of days ago. "Bad As Me".
There's no a PV except for this funny little piece, but the album is good (Anton said so:))
~~~~~~~~
И если вы ещё не в курсе - у
Тома Вэйтса
вышел пару дней назад новый (за 7 лет!) альбом, "Bad As Me". Видеоклипов к песням нет, но вот есть такой классный Вейтс, травящий байки, как у него водится. Антон говорит, что альбом хороший (верьте ему, он спец по такой музыке:)