Fort Collins loves celebrations, and it loves beer even more so, naturally, the whole town was green and drunk today, starting at 10 am:)
Ok, our local St. Patrick's Day parade isn't that much for someone who used to live in NYC like yours truly... Or at least it wasn't until we crashed into it (without permission, naturally) on this vehicle that belongs to McCormic family.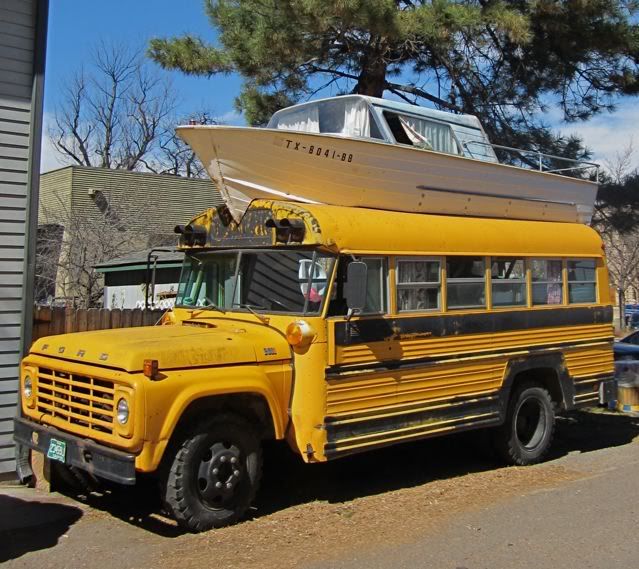 We had quite a ride all around the Old Town, with Tara jumping off the buss all the time to push aside the "road closed" signs and construction cones, with a bunch of our kids, waving from the windows and yelling "Happy St. Paddy's!" to the crowd... It was fun!:D And then we jumped from the bus through the fence into McCormics' (their son Cooper is one of my son's best buddies in school) backyard, where an Irish party had immediately started. It looked like all the guests just like us were not specially invited, but dropped by right from the parade. I dunno how many kids were running around, 20+ that's for sure - and most of them were redheads:) The beer was served in pitchers... no, really, I don't remember the last home party with the beer served in pitchers - everybody's just put a cooler with bottles and cans on the deck those days, right? It was a nice touch, and it somehow made everybody feel very Irish:) Too bad I couldn't drink much, I had to drive home with two kids. At home I discovered, that the first mini-daffodils had finally opened. They were definitely waiting for the holiday :)
So yeah... Happy St. Patrick's Day to you and yours! Cheers! :D
~~~~~~~~~~~~~~
Форк Коллинз любит праздники, а ещё больше любит пиво. Так что сегодня наш городишко весь зелёненький и пьяненький, начиная с 10-ти утра, как парад начался.
Ну конечно наш местный парад в честь Дня Св. Партика на того, кто жил в Нью Йорке особого впечатления не производит... Но только пока мы не ввалились на него (без разрешения, ясен пень:) вот на этом вот *кивок вверх* транспортном средстве, принадлежащем семейству МакКормик (их сын Купер - Сашкин школьный друг). Это было нечто... Орава наших деток махала толпе из окон и верещала "Happy St. Patrick's Day", миссис МакКормик выскакивала периодически на ходу, чтоб спихнуть в сторонку ограждения и знаки "дорога закрыта" - так мы и катались по всему Старому Городу, совершенно оттяжно. А потом попрыгали через забор прям с этого автобуса в их дворик, где уже стояли столы, и немедленно начался ирландский парти! Все гости, похоже было, как и мы не были приглашены специально, а просто заглянули с парада. Детишек вокруг носились десятка два как минимум, и большинство - такие же рыжие, как Купер. Пиво подавали в кувшинах... не, честно, не помню, когда в последний раз была на домашнем празднике, где пиво в кувшинах - в наши дни все ставят кулер с банками--бутылками, правда ведь? Казалось бы, такая малость, а атмосфера немедленно создалась самая правильная, и все стали братьями и ирландцами :D Жаль, мне много пить нельзя было - предстояло вести домой, с двумя мальчишками, Сашкой и его другом в гостёчки. А дома я обнаружила, что первые мини-нарциссы наконец раскрылись, будто специально праздника ждали....
Вобщем, это... Со Св. Партиком! Чирз! :D
( Pictures= 14 )