The most talented artist and my wonderful friend

jade_teacup
made a
Ex-voto
to
Santa Muerte
, my favorite Latino saint, whom Mr. Wu also finding to be a fascinating sacred figure.
Not only the art is exceptional, the execution is great: the ex-voto made in a form of a handmade, small, dainty book with artful cover, and title and back pages, where every page gives a special thanks to the saint. What a great idea! (usually an ex-voto/retablo is just a picture). The imagery is not only elegant and beautifully done, but also meaningful and wise.
I just feel like I have to share it with everyone. My scanner doesn't give it a justice, unfortunately, but at least you can get an idea... Believe me, the ex-voto book is so precious, it's a pleasure just to hold it in your hands.
THANK YOU VERY MUCH, BEN! ♥
So, if someone needs to express their gratitude to a saint or deity of any religion, there's your chance, because Mr. Wu is taking commissions! And not only religious art - oh no, just art! His graphic style is so special, and the interests are wide! To get a better idea, check up
his Etsy shop
, may be you'll find something you can't live without!
But back to my awesome ex-voto! Here we go!
~~~~~~~~~~~~
Замечательный художник-самородок и мой большой друг Бен Ву (

jade_teacup
) создал для меня
экс-вото
Санта Муэрте
, моей любимой латинской святой, которую Бен, будучи преданным протестантом, тоже находит интереснейшей религиозной фигурой.
Экс-вото не только блестяще по исполнению и идее, но даже по форме: мой друг выполнил его в виде маленькой, в ручную сделанной книжечки, с элегантной обложкой, где каждой страницей приносится специальная благодарность Санта Муэрте. Прекрасная идея, на мой взгляд. Картинки не только красивые и изящные, но и символичные. И всё это про творчество.
Я просто чувствую, что должна поделиться, может быть кого-то они тоже вдохновят!
К сожалению мой старый сканер не передаёт всей тонкости Беновской графики:( но всё же представление получить можно. Поверьте, книжечка такая элегантная, что просто держать её в руках исключительно приятно. Я очень благодарна моему другу за такой подарок! ♥
И если кому-то вдруг захочется выразить благодарность какому-либо святому или божеству - могу сказать по секрету, что Бен Ву (Ben Wu) сейчас берёт заказы. И не только религиозной/христианской тематики. Он вообще талантливый художник, и взгляды его весьма широки. Всё прорисовано руками, никакого компьютера! (мне как компьютерному графику остаётся тока тихо обалдевать). Поближе с творчеством мистера Ву можно познакомиться, заглянув в
его страничку на Etsy
, и в
его галерее на dA
.
Но возвращаясь к моему экс-вото!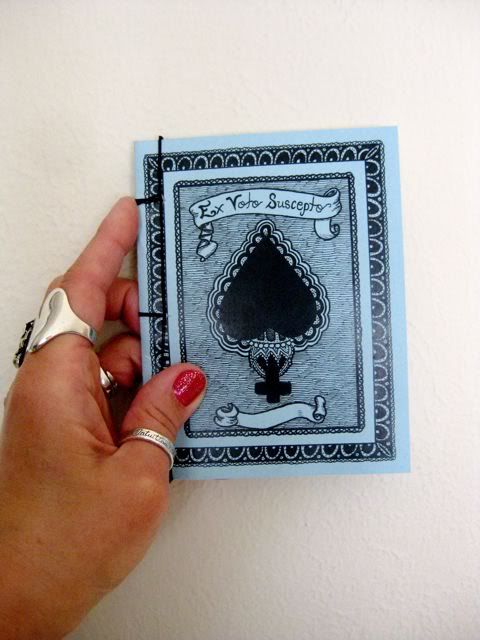 ( EX-VOTO = 8 images )

ISN'T IT GREAT OR WHAT??