broom_rider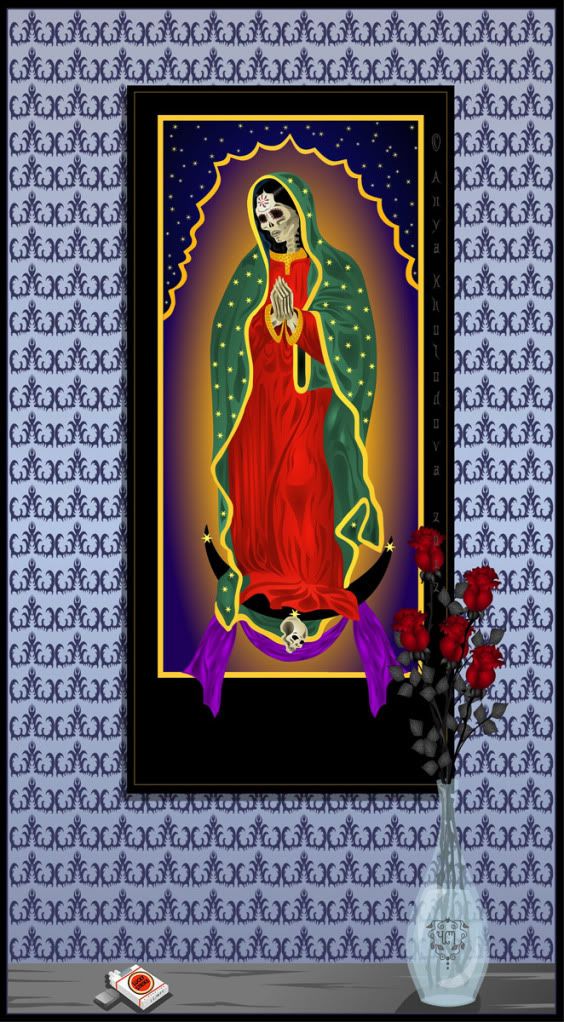 Finally, finished! A
ex-voto
to
Santa Muerte
.
At first it was started as a very different image, and I got stuck half way through it - something was wrong, but what? - then I saw
The Birthday's video
and how it starts with Chiba's religious candle with the image of the Virgin on it, and the things just clicked into their places themselves. Santa Muerte is depicted sometimes similar to
Virgin of Guadalupe
, and that's what I was going to do, starting the picture anew. Since Chiba proved to be so helpful and inspirational I thought I'll mention him on the retablo too by putting an offering of Lucky Strike cigarets (his favorite brand) to Señora de las Sombras. Yes, tobacco is a traditional offering to Santa Muerte as well as flowers.
~~~~~~~~~~~~~~~~~~
Наконец закончила
экс-вото
Санта Муэрте
.
Начиналось оно совсем, совсем иначе, но на пол-пути я застряла: что-то было не так, а что не понятно. Тут я случайно увидела в
видео The Birthday
Чибину свечечку с Мадонной, и тут всё как-то само-собой встало по местам. Санта Муэрте часто изображается сходно с
Девой Марией Гваделупской
, и так я её и нарисовала, начав всё заново. А поскольку Чиба оказался таким полезным и вдохновляющим, то в качестве жертвы Санта Муэрте появились Лаки Страйк, его любимые сигареты. Да, табак - это традиционное приношение Сеньоре де лас Сомбрас, так же как и цветы.