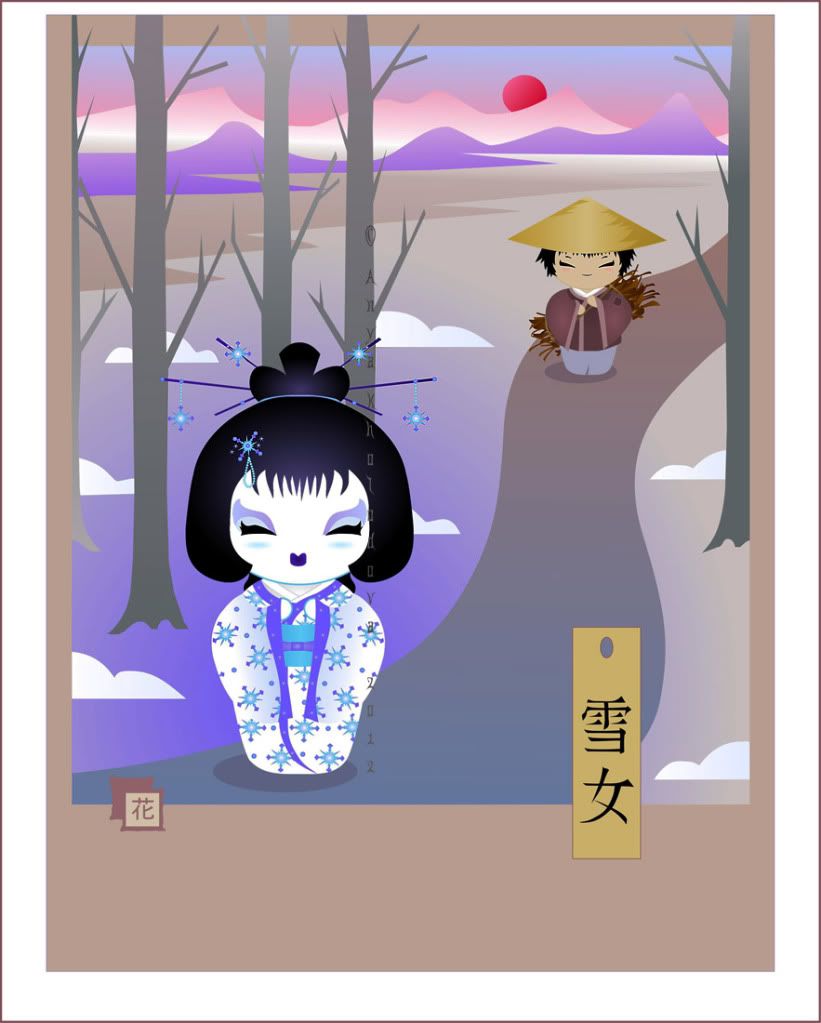 I wanted to draw
Yuki Onna
for a while but since she is one of the most-known Yokai there are a lot of pictures of her, in every style... So the idea to add one more snowy femme-fatale to that bunch didn't really appealed to me. A few days ago one of my dA groups, Kawaii-Kokeshi, started a "Mythical Creatures of Asian Folklore" contest, and I thought - here she is, my different Yuki Onna! A kokeshi!:)
So here is an illustration to
Yuki Onna fairytale
, a kokeshi-version :)
May be I'll build and paint real Yuki kokeshi later.
~~~~~~~~~~~~~
Мне давно хотелось нарисовать
Юки Онна
, но поскольку она является одной из наиболее известных Йокаи, то рисуют её часто.... вобщем, добавлять в эту кучу ещё одну роковую Снегурочку было не интересно. И тут на днях в одной из моих груп в dA, Kawaii-Kokeshi, начался конкурс на персонажей японского фолклёра. Вот тут-то меня и осенило - вот она, моя нестандартная Юки Онна! Это кокеши :)
Так что вот, иллюстрация к
сказке про Юки Онна
, в стиле кокешиков:)
Может, как-нибудь распишу настоящую кокеши-куклу Юки.