Ishihara Gōjin is a
Gekida
artist. He is called Japan's Norman Rockwell and modern manga's grandfather. Oh boy, the guy is twisted! Children books, kamishibai, graphic novels, pulp fiction illustrations, gay magazines, and a lot of
sex, drugs, and rock-n-roll
other stuff... A WWII young veteran, Gojin got art education in Tokyo during the American occupation (guess it explains a lot); his golden period was from the mid-50s to the mid-60s, but he still was actively working and getting published even at the end of 90s. I guess his art can tell a lot about what Japan had been through during the XXc; and I find it very interesting.
Here
's a nice bunch of Gojin's illustrations, take a look.
~~~~~~~~~~~~
Исихара Годзин художник гекида. Его называют то японским Норманом Рокуэллом, то прадедушкой современной манги - думаю, и то и другое верно. Ох и вывихнутый же дядька! Детские книжки, комиксы, киноафиши, иллюстрации для бульварных и гейских журналов, - что угодно... Молодым человеком Годзин прошёл Вторую Мировую Войну, получил художестенное образование в Токио во время американской оккупации (полагаю, это многое объясняет), золотой период творчества - с середины 50х до середины 60х, но и в конце 90х годов он всё ещё активно работал и публиковался. Мне его творчество представляется очень интересным в плане иллюстрации японской истории 20 века, да и вообще - прикольно.
Вот здесь
ещё больше его иллюстраций, полюбопытствуйте.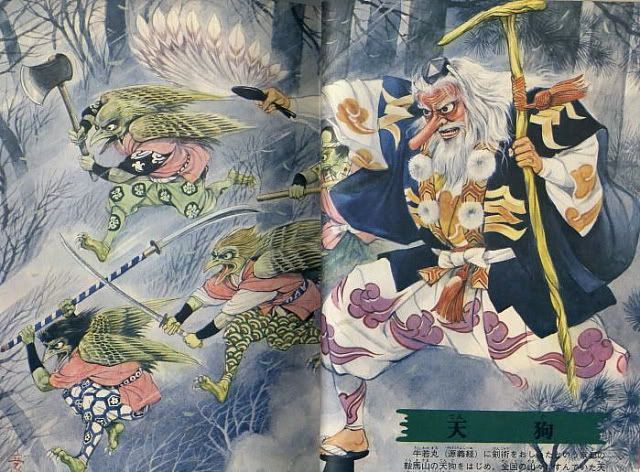 Tengu

( Japanese folklore characters and not-so-folklore stuff: 7 pics )